Hello!
Wow - the end of February flew by and March snuck up on me! I have been very busy with lots of orders, developing new color-ways and my bustling yarn club. I'm working now on finishing my March yarns and rovings for the Clubs and they will all go out next week. If you want to get in on the Yarn and/or Fiber Club action - sign up now to start  your membership with the April Club.
And, of course, I have been getting some knitting in lately.  I'm still working, albeit slowly, on 3 KALs: 2 by Ambah: her Valentine KAL and It's a Wrap KAL, and Drea Renee Knits' Comfort Fade Cardi KAL.   And on Finish it Fridays, I have been plugging along on my Dotted Rays by Stephen West - (it's coming along!). But I also took a couple of days to knit up these Evil Eye Gloves in response to the horrible school shooting in Florida a couple of weeks ago.  These gloves are by the same designers as the Women's March Pussyhat (Kat Coyle and Krista Suh) and they are meant to be worn or donated to the March for Our Lives on March 24th.  We plan to attend the NYC Sister March and I will wear mine then! They were a fairly quick project - the knitting is super quick and the embroidery is more time consuming - but I learned the duplicate stitch, so that was good.  The eyes are a little wonky, but I don't mind - they look a little more intimidating that way - they are supposed to be "evil", right?!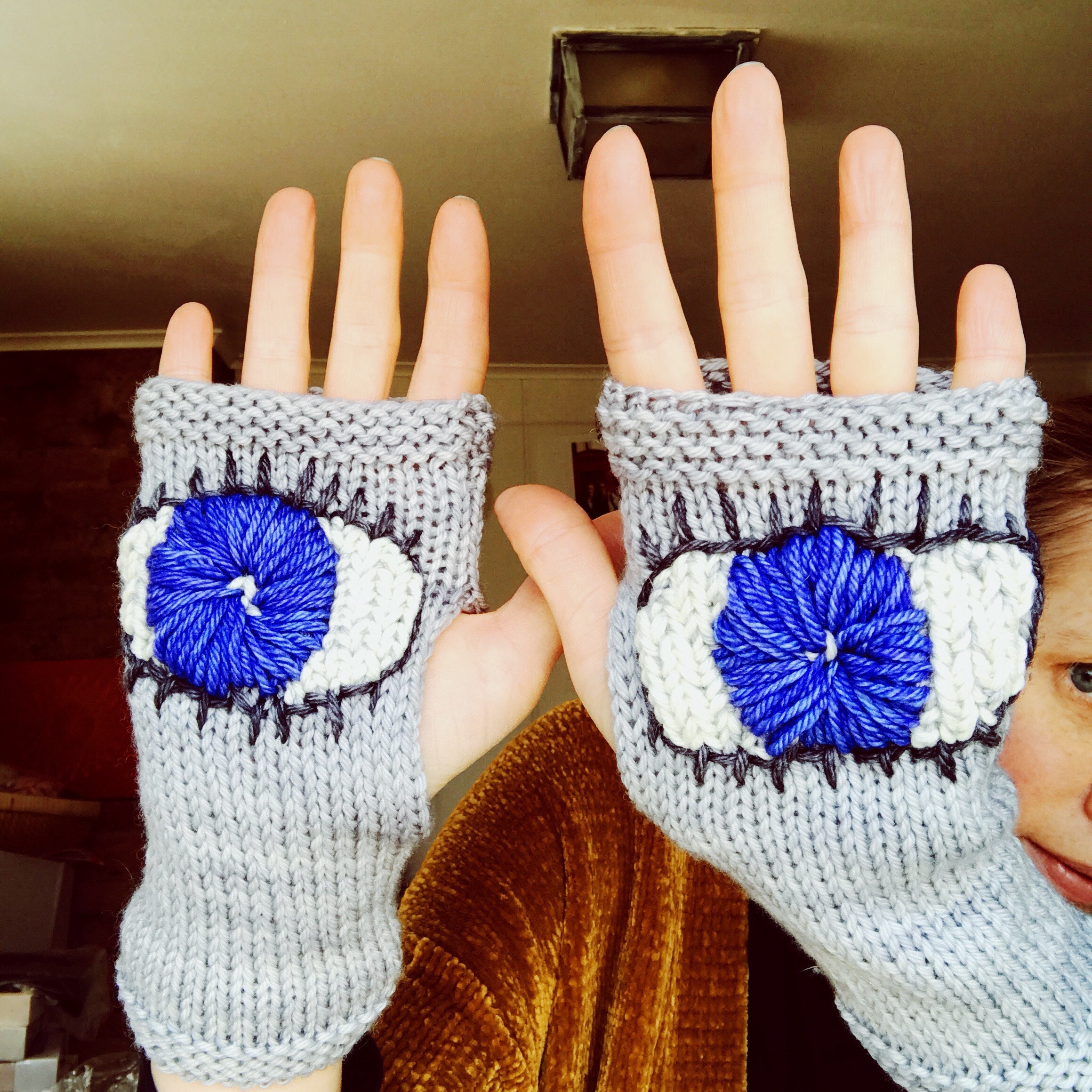 I also put together an Evil Eye Glove Yarn Kit for sale in my shop with the proceeds going toward the March for Our Lives.  (However, I'm sorry to say, the window to receive the yarn in time to make them for the March is tiny - basically you need to order them now, since we will be away on Spring Break soon.)
After the Clubs all go out, I will be taking a trip to the Northwest for Spring Break.  We will drive from San Francisco to Vancouver - Yay - a Road Trip!  During this time the shop will remain open for ordering, however all orders received while we are away will be shipped after we return, during the last week of March, so get your orders in now, to avoid the delay - we leave next week!
xo,
Aimee